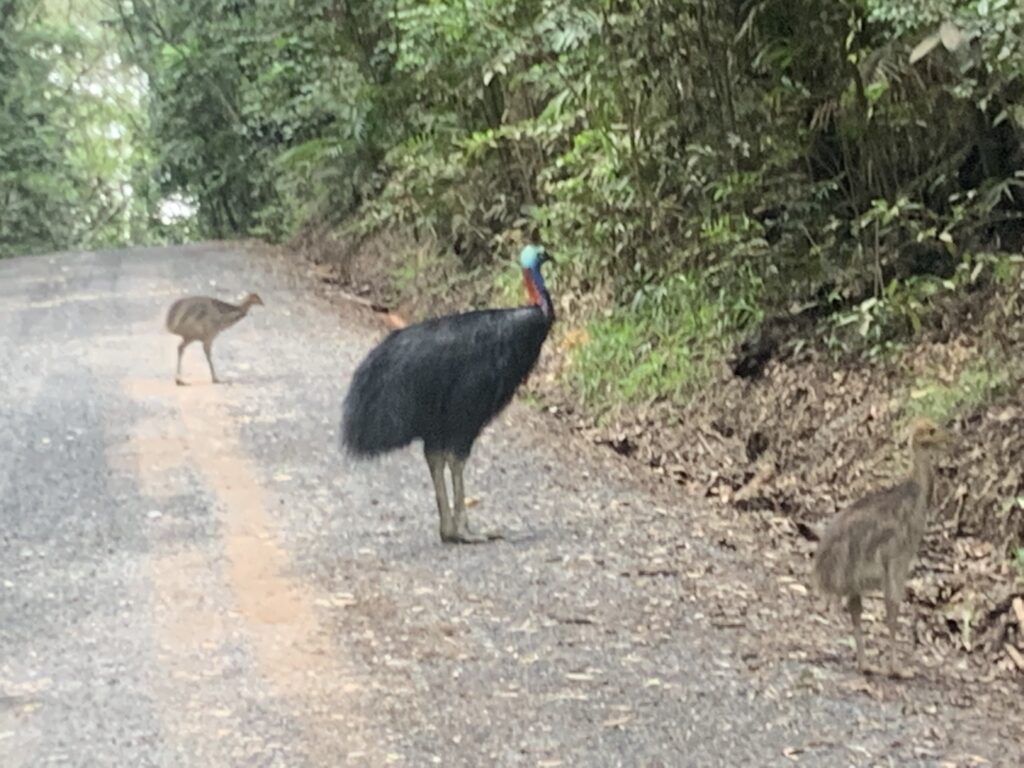 Once I took a trip North of Cape Tribulation in Far North Queensland on the Bloomfield track, which travels through the land of the Aboriginal Community of Wujal Wujal and onto the Bloomfield River. It was a sentimental trip as my parents had worked closely with some of the families in this community as their children came down to Cairns to boarding school. It was so remote that there was no closer secondary education. My parents sometimes visited this community and spoke warmly of their interactions, so I was keen to check out this beautiful part of our country.

We missed seeing the spectacular Bloomfield falls due to the dark clouds that threatened to pour down rain and flood the creek crossings to overflowing. The section of the road we travelled was for a 4-wheel drive only, and in the wet season (which we were in), these creek crossings can only be impossible to pass through for several hours. However, the fantastic beauty of the rainforest makes for a memorable visit. On this occasion, we decided to turn back and not risk being caught out by a deluge of rain.

Though disappointed to not quite make it to the falls, we were delighted with our trip as along the track, we had come across a father cassowary and three chicks and managed to capture some rare footage ( check out https://www.facebook.com/LeisaWilliamsAuthor)
My knowledge of the cassowary was limited and I was surprised to learn that when it comes to raising a family it is the father who 'rules the roost' to learn more see https://tinyurl.com/ytnauves
On this track, he and his chicks were utterly relaxed and unconcerned about us driving behind them in the massive four-wheel drive the hire car company had upgraded us to when they discovered no smaller cars were available for hire. Hence, it opened up an opportunity to explore places we had not imagined we would be able to access.

For many, a large tank of a car would be intimidating, pressing behind to hurry this family along, applying pressure for them to move off the road so that we could pass ( not that we were intentionally doing this, but after some time, we did need to get past them). However, they were not worried by the dark clouds or vehicle presence—the chicks were just as relaxed as their father. From time to time, he would ensure that they had regrouped when one wandered from the flock.

It repurchased me to this scripture which says,

Do Not Worry

"Therefore, I tell you, do not worry about your life, what you will eat or drink, your body, what you will wear. Is not life more than food and the body more than clothes? Look at the birds of the air; they do not sow, reap, or store away in barns, yet your heavenly Father feeds them. Are you not much more valuable than they? Can any one of you by worrying add a single hour to your life?
Matthew 6:25-27

Only these birds were on the ground and were not worried. I thought of the ongoing complexities of our life that still need resolving and the threats that seemed (like the dark clouds and vehicles) to be pressing upon us. And then the Holy Spirit reminded me again not to worry, to seek the one who is bigger than the problem and, like the cassowary, maintain peace. The father was not oblivious to the potential danger. He kept his family safe and did not allow the threat to dictate his response, which is so relevant to Heavenly Fathers' care whose love is sacrificial.
In John 3:16 says, our Heavenly Father loves us so much that He gave His only begotten son as a sacrifice for our sins. He did this to give us new life and so that we could spend eternity with Him. This is true, sacrificial, and unconditional love.
Is there any part of this story that resonates with you?
I know I have been challenged by the cassowary and his cool, calm composure as we explored his home along the Bloomfield river.

Until next time,
Leisa
[/et_pb_column][/et_pb_row][/et_pb_ 
section]