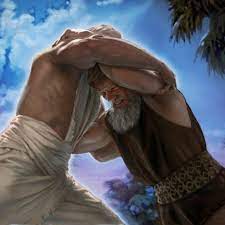 Then the man said, "Your name will no longer be Jacob, but Israel because you have struggled with God and with humans and have overcome" Genesis 32:28

In this Bible story, Jacob wrestles with God all night and says to God, "I will not let go unless you bless me" it was an unusual encounter that included a special request to receive God's favour.
One that he came away limping from. Nevertheless, Jacob received the blessing.
As I read this passage I reflected on if I would be willing to make such a request from God and if would I persevere like Jacob until the desired receive outcome is received.

Do you have a request that you would wrestle with God for?

My request is centred around my son having a meaningful life, for intergenerational blessings that flow through our family line, and that we do not just have to accept our lot as a caregiver.

Psalm 37:25-26 says, I was young, and now I am old, yet O have never seen the righteous forsaken or their children begging bread. They are always generous and lend freely; their children will be a blessing.
Throughout my life, I have wrestled with accepting the status quo, that our circumstances with raising a child with a disability are what they are, and there is little if any hope for a meaningful life for our son or family as this is our lot.

If you have read Hope Wins, you will see the struggle played out over many years for me to come to a place where I can declare that "hope wins ." https://www.amazon.com/dp/B09BTBPN5C

By the end of the book, despite not having any firm plans in place, there is a choice made to stand on the promises of God, despite not being able to see what the future holds.

Within three months of publishing the book, Justin has an internship at a church five hours away from our home and support that we could never imagine possible. Yet, what unfolds as I write about in my next book, "Hope Overcomes," is a battle of epic proportions for Justin to step into and be released into his meaningful life. It goes beyond Justin to our entire family, as our meaningful lives rely in many ways on Justin and his meaningful life. So, Ian and I have taken a risk and let go of what we have to support Justin and offer Hope to others in a similar situation.

Can Hope overcome the impossible?
Is God bigger than impossible circumstances?
These are real questions that we wrestled with and still do.
It seems like the resistance is so strong from all sides (despite the rhetoric about enabling people with disabilities to live their best life). Like Jacob, I have been wrestling with God and refusing to let go until He blesses our family so we can live full lives.

John 10:10 says the thief comes to kill and destroy. I have come that they may have life and have it to the full.
This scripture passage is written in the context of Jesus being a good shepherd, and he lays down His life so that the sheep can follow Him and have abundant lives.
If this is so, it must be possible for all people in all circumstances to do so and live their lives abundantly because Jesus laid down His life so that those who follow Him can have a full life. Therefore, it is not just for "normal" families. It should not be exclusive to only certain kinds of people who are considered acceptable by society.

There should not have to be such a struggle for a person with disabilities to voluntarily serve in a church community and receive the support they need to live independently at home. It is tempting to give in to hopelessness and despair, but I want to encourage anyone who can identify with our journey on any level this Christmas/New Year season to keep their eyes fixed on Jesus. He is our HOPE and came as a baby in a manager against all odds to offer Hope and salvation to whatever hopeless situations we may face.

Jacob was not content to let go of the struggle until he received the blessing and declared Hope Overcomes. Jesus faced a pretty grim situation on Good Friday, having been betrayed by one who was in his inner circle, but we know that on Resurrection Sunday, that Hope Overcame.

I don't know all the answers yet to the complexities in our situation or yours, but God does, I know He is trustworthy, and I keep my eyes fixed on the one who is bigger than the circumstances.

I will not stop wrestling until Hope Overcomes, and I also encourage you to dare to believe that you can place your Hope and trust in the one whose name is Jesus and confidently declare Hope Overcomes!

Until next time,
Leisa
[/et_pb_column][/et_pb_row][/et_pb_
section]