How many times have you heard the words 'I doubt it?'

"with men this is impossible, but with God all things are possible."
Matthew 19:26,
What you hope for may seem impossible, but with God, is entirely possible?

The world encourages us to dream big and put our ideas out to reach our full potential. It is a vulnerable thing to do because there is the risk of hearing the words 'I doubt it.' These words can squash the zeal and hose a person down before they even have a chance to get started.

Their idea may fail, but isn't it better to have tried and failed than not tried at all? Taking risks can be good as long as it is not risky. There may have been a seed planted in your heart years ago to start a business, write a book, study a course, build a home, etc., and you finally dare to share your dream with a trusted friend when the words 'I doubt it' pop out of their mouths. As what is shared is seemingly impossible, doubting that it could happen is like a default response when someone opens up and shares their heart.

I have been a doubting Thomas and also received the doubter's feedback. One time a friend came over and, with much enthusiasm, shared what God had placed on their heart for a ministry to disadvantaged children and had a particular property in mind. Immediately I could see all the pitfalls and felt it would not happen quickly, and I freely expressed my doubts.

Upon reflection, I wondered if squashing her zeal was not the most helpful thing to do for my friend's growth, as I remembered how I also had been one to share my hopes for several social justice issues and dreamt big only not to have things unfold the way I expected them to. An encouraging word was far more helpful to me than the words 'I doubt that will ever happen.'

God does not want us to stop dreaming or hoping. It is about trusting Him with His timing. Even when it comes to the salvation of our loved ones, be encouraged to not doubt that they will ever be saved, it is never too late for God to move them to put their hope in Him.

A doubting Thomas is a skeptic who refuses to believe without direct personal experience- it is a reference to the Gospel of John who shared the account of the Apostle Thomas, who refused to believe that the resurrected Jesus had appeared to the other ten apostles until he could see Jesus crucifixion wounds (see John 20:24-29).

Be assured that God is the God of the breakthrough, however, if we need to see it first, doubt may be in the way and may block the faith that is required to believe God for the breakthrough.

This week I heard of a school built on a floodplain, and they were told they could never build one there. Thirty years later, they are still going strong. So walk by faith, not by sight and put those doubts aside. Don't be a doubting Thomas or Eeehore.

Until next time,
Leisa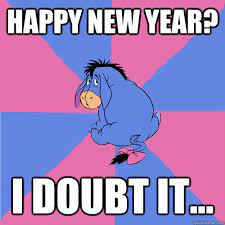 [/et_pb_column][/et_pb_row][/et_pb_
section]