What does it mean when someone says, take it easy?
The definition of easy is to proceed in a calm and relaxed manner, with little effort, and to be at rest. I have constantly been personally challenged to take it easy.
Taking it easy also means proceeding in a calm and relaxed manner. Easier said than done when life is not always easy and light. It is full of trials and tests. There are issues and concerns within every family and community that may have caused our fears and uncertainties, anxieties, and disbeliefs.
Yet I have learned that there is little that I can do change my circumstances in my own efforts. No matter how hard I work or pray, or service, it still may not bring about the desired results. Even being a faithful servant of God does not even bring about changes we may hope for in our lives. There are rewards, but they may not be what we expected. For example, we may desire a new job, for a relationship, or a health issue to be healed. Yet, the answers come differently from what we expected ie God using surgery to heal the health issue, rather than supernaturally etc
Whatever we may desire, the Father wants us to take it easy and to stop striving because He has our circumstances under His control. We can be assured that He who has begun a good work in you will complete it until the day of Jesus Christ Philippians 1:6 and that He is trustworthy.

Heavenly Father wants us to take it easy to have a rest. To flip the internal narrative from doing to resting in Him, as He is a good Father who absolutely loves and adores His children. He wants us to relax and avoid hard work. It may be hard to not strain when there are ingrained work and effort patterns, forged deep within us. I am not saying that we don't work hard, rather our service/work is to come from an overflow of His love and grace upon our lives.

It is worth considering if there is anything in your life that moves you to have to take it easy, perhaps a stressful family or work situation. Or maybe the doctor has told you to take it easy for a while because of health issues, and you are finding it hard to slow down.
I am having to take it easy at the moment as the Lord has put me in a time of rest, recovery and healing after an extremely intense couple of years. He has reminded me of what Jesus says in Matthew 11:28-30
"Are you tired? Worn out? Burned out on religion? Come to me. Get away with me, and you'll recover your life. I'll show you how to take a real rest. Walk with me and work with me—watch how I do it. Learn the unforced rhythms of grace. I won't lay anything heavy or ill-fitting on you. Keep company with me, and you'll learn to live freely and lightly."(The Message)

This song 'I am your beloved' also reminds us of whose we are and to whom we belong and that we can take it easy. We are His beloved and His mercy has defeated all our shame, and we do not need to strive to gain the Father's approval or anybody else's approval.

I am your beloved you have bought me with your love https://youtu.be/lcSqRkpeQyM #BethelMusic I Am Your Beloved – Jonathan David Helser, Melissa Helser

If you feel tired, weary, worn-out, can I encourage you to 'take it easy?' keep company with Father God, and He will teach you how to take it easy.

Until next time, Leisa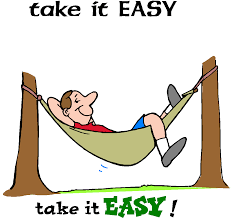 [/et_pb_column][/et_pb_row][/et_pb_
section]