Enter through the narrow gate. For wide is the gate, and broad is the road that leads to destruction, and many enter through it. 14 But small is the gate and narrow the road that leads to life, and only a few find it. Matthew 7: 13-14

Written in the context of salvation, the Lord has impressed on me how important it is once on His path, to stay on track. I walked on a very narrow path for the past year and a half. My upcoming book is called Hope Overcomes and shares some of the challenges of transitioning my son with special needs from school into his purpose beyond and the struggle to ensure that he has all that he needs to build independent living skills to equip him. It also addresses what happens when competing life pressures, such as caring for ageing parents and the demands of full-time work, consume just as much focus and energy as the sheer load of juggling too many balls in the air. At times I felt like I was drowning, yet the words of Philippians 4:6 kept continually coming to me. Do not be anxious about anything, but in every situation, by prayer and petition, with thanksgiving, present your requests to God.

So, I walked along a narrow dirt path worn through some lush green grass every day for many months. Parts were rocky, others were muddy and slippery, and sometimes smooth and easy. The condition of my walking path was entirely dependent upon the weather conditions. It was often tempting to step to the right or the left and move off the path onto the lush green grass. But I knew that the Lord wanted to teach me something by staying on this narrow path, that the road was not easy, but if I kept my eyes fixed on Him and let Him lead me, ultimately, hope would overcome, and the situations in my life that seemed hopeless would become hope-filled.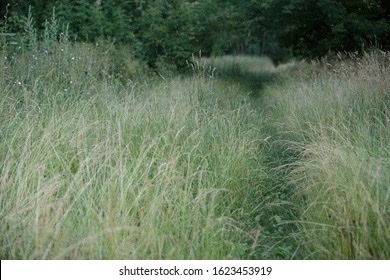 So, that is what I did naturally to build hope in Christ, every day, I walked a narrow path and fixed my eyes on Jesus. It often felt like there were shadows towering over the path from a forest of trees, and I needed to reach out and hold onto overhanging branches to stop myself from slipping and tripping. I kept asking the Lord which one I should hold onto so that He could navigate me through the complexities and uncertainty of the way ahead. The Lord was clear don't go back; step forward. I will make a way when there seems to be no way. So in faith, hope and trust, I kept moving forward, and it was like the boulders that were before me smashed into many pieces, and the path cleared so that I could stay on it and move to where God was leading our family.

Every day remains deeply uncertain. There are still large boulders before us, but like the Israelites had many giants to overcome in the promised land, I thought of Caleb and Joshua, who compared the giants with God, and the giants were cut down to size. "The Lord is with us," they said. "Do not be afraid of them" (Num. 14:9). That whatever giants or boulders or obstacles were in the way of Justin's purpose, they were not too big for God. So, as I wait for God's perfect time to slay the remaining giants, I encourage you to keep your eyes fixed on Jesus and stay on His path. It may be tempting to wander off and find another way. However, He is the only way because, as Jesus says about Himself in John 14:6 ' Jesus answered, "I am the way and the truth and the life. No one comes to the Father except through me. We can have an assurance that through Christ, we are reconciled to God, and He is a good Father whose path is good to follow.

Until next time,
Leisa
[/et_pb_column][/et_pb_row][/et_pb_ 
section]